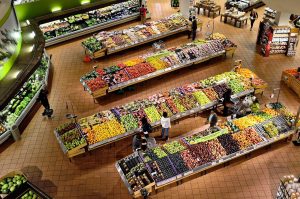 The price of groceries is absolutely out of control right now. My family had a pretty rough June and I absolutely failed at budgeting, meal prep and meal planning. When it was all said and done I looked back at my expenses and I paid almost $1500 at the grocery store in June for my family of 5! We didn't even get anything too out of the ordinary! 
Because I know we are not the only ones facing grocery bills like this, I have decided to retouch on things that you can skip at the grocery store in order to help save money. I assure you, if you focus on these things when you go grocery shopping, you will cut down on your grocery bill. 
4 Things to Skip at the Grocery Store to Help Save Money
Anything Not on Sale
One of the best ways to save huge on your grocery bill is to plan your meals based around the sales at your grocery store. If you focus on making sure you are getting good deals and you are actually using those foods, you will save money!
New Things
With grocery prices being what they are, now is not the time to try out new and unique looking products. Steer clear of buying something that you have no idea if you or your family is even going to like it. 
Name Brand Items
This isn't a hard and fast rule of course because we all have some items that we have brand loyalty to, but overall being willing to grab the store brand of grocery items can help you save money.
Soda and Junk Food
Have you been wanting to eat healthier? Now is a great time to skip out on the soda and junk food!