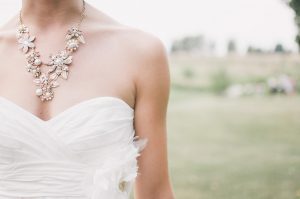 Are you planning a wedding soon? Are you in sticker shock over the price of the wedding dress? I'm a bridesmaid in my sister in law's upcoming wedding and HOLY MOLY these prices are absolutely out of control. 
Throughout the shopping process with her though, we have gotten some really great tips and tricks and have even found some of our own as it relates to saving money on the wedding dress. Want to know what we have discovered?
Find Huge Discounts on Wedding Dresses with These Tips
Shop The Clearance Rack
Y'all..there are some seriously amazing wedding dress deals in the clearance racks at bridal stores. We were at David's Bridal the other day for some bridesmaid dress shopping and while there I perused the clearance racks and found some seriously stunning wedding dresses for as low as $125! I was shocked to see prices that low. 
If you have your heart set on one specific dress, you may not be able to find it on the clearance rack, but if you are more open minded about it, you are going to be shocked at what you can find. 
Wish
I have a friend who got married last year. She ordered 2 different wedding dresses from Wish. I was seriously questioning her decision to do so, but it was so inexpensive I couldn't blame her! Her goal was to have the option of both dresses since they didn't break the bank, but as it turns out, she loved both dresses so much that she wore both of them during her wedding and reception. It was awesome!
Amazon
Amazon has a great selection of dresses at great prices! The only issue here is that you may take way too long to decide since there are so many of them.