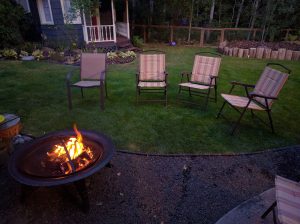 Are you wanting to change the look of your outdoor space? I am so ready to spend time outdoors, but I desperately need to make some upgrades. I decided to do some research and find ways to upgrade my yard on a budget. 
If you are also looking for ways to upgrade your yard on a budget before the warm days of summer hit, here are some ideas for you. 
Upgrade Your Yard On a Budget
All of the upgrades I have listed below are going to change your outdoor space so that you can enjoy it to the best of your abilities as long as the weather allows for it! Enjoy yourself, my friends. 
Plant Some Flowers 
New flowers make everything better, don't they? Flowers are pretty inexpensive and they are so much fun to be able to just look at an enjoy too. This alone can make a huge difference in your outdoor space and if you can do nothing else in your space, this is a great option. 
Update Your Outdoor Furniture Game
Now is a great time to replace your outdoor furniture! Do you already have some outdoor furniture in your yard? You always have the option to just clean it up and maybe add a fresh coat of paint to the furniture you already have so you don't have to spend the money on a new set. 
Add Some Lighting
I love, love, love garden lights. They just add a touch of class and beauty to outdoor spaces. Find a great space in your yard where you have sitting options and string up some lights for ambiance. You won't regret it. 
Add a Fire Pit
There is just something so fun about sitting around a fire with those you love on warm evenings. Fire pits are easy to build, but if you don't want to make any major lawn changes, you can easily buy an inexpensive fire pit (check FB marketplace and/or Craigslist). This is a great upgrade for looks but also a fun one for you and your family to enjoy.