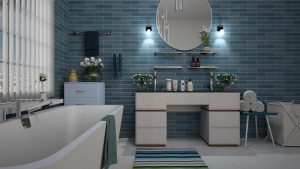 Are you wanting to change the look of your bathroom? Are you on a budget and worried that you won't be able to make any good changes with the amount of money you have to spend? Not to worry, my friends! You can almost completely change the look of your bathroom with a very limited budget. 
These changes will allow you to upgrade your bathroom on a budget and give you a smile every time you see it!
Upgrade Your Bathroom On a Budget
All of the upgrades I have listed below are going to change the space for yourself to enjoy it more. It will also add value as it comes to selling or presenting your home to sellers.
Install new lighting fixtures 
The other day I was at Walmart walking down the clearance aisle and spotted some really cute drop-down pendant lights on clearance for $14. My first thought was how cute they would look in my bathroom! They could seriously change the look of the entire space with just $14.  It's easy to find deals like this!
Add More Storage
If you are crafty with carpentry at all, adding more storage can be a huge plus in upgrading your bathroom. Adding some extra shelves or cabinets can be a huge selling point for buyers. Plus, who couldn't use more storage in your home?
Grab a New Shower Curtain
Something as simple as a shower curtain can make a huge difference in the look of your bathroom and you can get one for really cheap! This is easily a $20 and under upgrade for your space. 
Paint the Walls
Bathrooms are often relatively small. You can get away with painting the space with just one can of paint. Even high quality paint is affordable if you only need one can. This will make a huge difference in the look of this space!