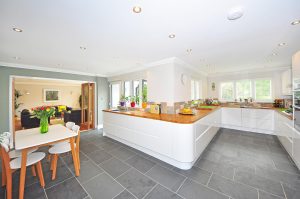 Are you looking to make some upgrades to your kitchen? Are you curious to learn which upgrades will give you the biggest bang for your buck? While I'm not planning to sell my home anytime soon, anytime I do any upgrades to my home or property I am always wanting to make sure that any upgrades that I invest in will add value to my home. 
Here are some kitchen upgrades that will increase your home's value that you can start working on now. Are you ready to make some high value changes to your home?
Kitchen Upgrades That will Increase Your Home's Value
New Hardwood Floors
Hands down one of the best upgrades that you can make to your kitchen to improve its value is to put new floors in. Hardwood floors are always a hit for buyers. If you already have hardwood floors, now is a great time to give them some love and refinish them!
New Countertops
New countertops are a huge selling point when it comes to improving the look of your kitchen as well as increasing the value of your home. Before you buy new countertops, be sure to check out some local building supply bargain stores to see what you can find. Oftentimes you can find countertops for pennies on the dollar!
Where to Find Discounted Building Supplies
Here are some great places to find discounted deals on building supplies. Be sure to check these places before you buy any building supplies or products for your home.
FB Marketplace – This is a great place to find people who have leftover supplies from recent remodels. I often find flooring deals for pennies on the dollar like this. 

Building Supply Bargain Stores (as mentioned earlier) – These types of stores are a great option for building supply savings. 

Home Depot/Lowe's types of stores – Be sure and check the clearance aisle of these home improvement type stores. I have purchased some really great deals like this. 

Habitat for Humanity Restore – Definitely check out any Habitat for Humanity Restores near you. You'll be shocked at the deals you can find at these stores.