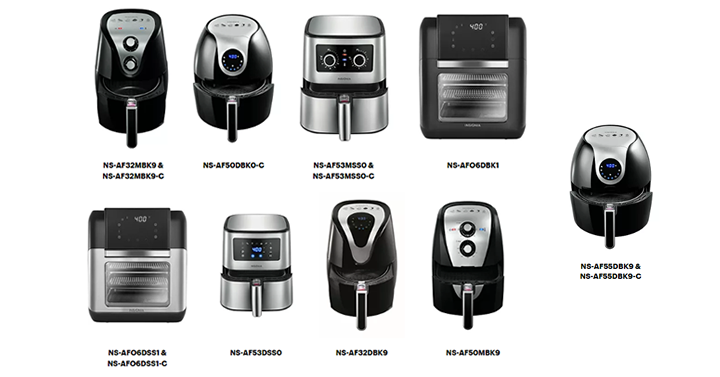 We've shared deals on LOTS of these air fryers from Best Buy so we thought it might be good to share the recall too. The air fryers and air fryer ovens can overheat, posing fire and burn hazards.
This recall involves the Insignia Digital Air Fryers, Insignia Analog Air Fryers, and Insignia Digital Air Fryer Ovens, model numbers NS-AF32DBK9, NS-AF32MBK9, NS-AF50MBK9, NS-AF53DSS0, NS-AF53MSS0, NS-AF55DBK9, NS-AFO6DBK1 and NS-AFO6DSS1 sold by Best Buy. The brand name INSIGNIA is on the top or front of each unit. A rating label on the underside of each unit identifies the brand INSIGNIA and the model number.
The air fryers and air fryer ovens have cooking chamber capacities ranging from approximately 3.4 to 10 quarts, and plastic or plastic and stainless-steel bodies in black and stainless-steel finishes.
Consumers should immediately stop using the recalled air fryers and air fryer ovens and return the product to Best Buy for a refund in the form of a credit for use at Best Buy stores or Bestbuy.com.
Consumers can call Best Buy at 800-566-7498 from 8 a.m. to 5 p.m. ET Monday through Friday, or go online at www.bestbuy.com and click on Product Recalls for more information.