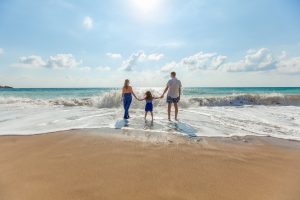 Are you trying to plan a vacation on a budget? That can be a stressful task, but it's not impossible! Vacation costs can quickly get out of control so if you follow these vacation tips to save you money on your next adventure, you'll find yourself having a blast on a budget!
Staycations or nearby trips are often what we think of when we think of saving money on vacations, but there are tips out there that can help significantly to save on even bigger vacations and farther away adventures. 
Vacation Tips to Save You Money on Your Next Adventure
Go Camping
Camping is so fun! I tend to like camping resorts that offer fun activities for the kids like swimming pools, game rooms, etc. We have a membership to Thousands Trails camping resorts and it has served us well! We have had some seriously fun experiences at their camping resorts. Our membership was about $450 for a year and as much as we go camping, it is well worth it!
Check Groupon
I know I mention Groupon a lot, but there's a reason! Groupon has some seriously AMAZING deals available. You can find all inclusive resorts, nearby hotels, camping deals and more!
Be Flexible
If you are flexible on when and where you are going, there are some really good tools out there for finding deals! Both Google flights and Kayak, you can use the "explore" option, it will show you the cheapest flights from your nearest airport. I live on the west coast and I have found round trip tickets to Florida for $140, Mexico from $200, Vegas from $48 and even to Denver for $70! So many good deals out there! 
I am in the process of looking for a graduation gift vacation for my teenage daughter and I'm seeing so many options! It's kind of an addiction and I find myself checking out these websites daily.