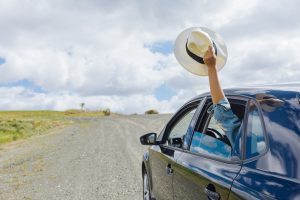 Do you have road trip plans for Spring break or for this coming summer? Are you dreading all of that time on the road? Luckily there are some things out there that you can do to pass the time. I actually really like road trips and I don't at all mind those otherwise boring miles that others complain about, I have a teenage son though that hates road trips (always has) so I've spent years trying to find ways to entertain them.  
There are actually lots of fun things that you can do on the road to keep everyone in the car from being bored. Check out how you can pass the time on a road trip with these tips.
Pass the Time on a Road Trip with These Tips
Bring Your Gadgets
If ever you are going to okay the use of tablets and electronics, road trips are that time. Seriously, when all else fails they can do wonders for keeping your kids entertained.
Charge All of Your Devices
Before you head out, make sure to charge your phones, tablets and all other gadgets. You don't want them to die right in the middle of a great movie or game. Also be sure to bring charging cables for everyone's phone so that you can charge them on the road. 
Lastly, it's a good idea to bring portable chargers for those times when charging via the car is not possible. I have a solar one that I like to leave on the dash when not in use so that it charges itself. 
Google is Your Road Trip Friend
Last year my family took a road trip through 6 states in the Western US. This was a lot of driving in just 7 days, but it was awesome.
I have heard time and time again how horrible the drive out of Las Vegas is so this was a part of the trip that I was prepared to just sleep off. I found many of the tiny, run down towns to be fascinating though and decided to Google the places while we drove through. Let me tell you, it was incredibly fascinating. We drove through towns that were home to the Earp Brothers (my husband is a HUGE Tombstone fan), we drove through a town which was the site of a Max Baer (my husband is also a HUGE boxing fan) fight in the late 30s. 
We are history buffs so this was a seriously fun part of our trip.