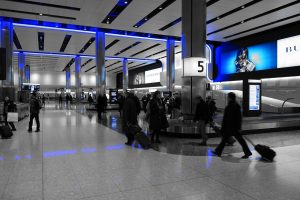 Do you travel with carry-on luggage only? Some people hate doing it, but some absolutely love it. I tend to be an overpacker so I couldn't imagine doing it before, but I also like to fly on budget airlines and I don't like to pay those big fees for checked luggage. Plus, who wants to deal with the possibility of your luggage getting lost?
Plane travel is actually quite a bit easier with just carry on luggage. No more checking your luggage, no more waiting at the luggage claim area. It's a game changer. You may not be able to do it on all trips (although many people can make it work for them for almost any trip), but those shorter trips can be much easier to make work. I am headed to Vegas in a few weeks for a 4 day trip and I am definitely only going with carry on. If you are ready to learn how to be better at this, here are some tips that will help you pack light for your next flight. 
3 Tips that Will Help You Pack Light for Your Next Flight
Invest a 21 Inch Suitcase
You need to invest in a 21 inch suitcase (the maximum size allowed for carry on). You can fit a week's worth of clothing into a 21 inch suitcase and that is the most you should be packing anyway. If you must do laundry, you can do it at your destination. You can hand wash you items in the sink or use the hotel laundry service. 
No More Than 3 Pair of Shoes
You should never bring more than 3 pairs of shoes. That means to wear one pair and pack two. Focus on wearing the larger of the 3 pairs on the plane so as to save space. 
Pack Your Outfits Around One Color
In order to save as much space as possible, choose your week's worth of clothing around one color. I'd usually go with a basic color like black, gray or tan, etc. It's also good to try and wear the bulkier of your clothes on your flight so as to save more room in your suitcase.