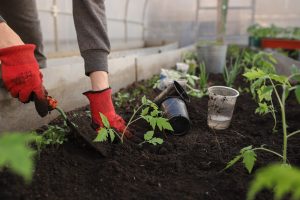 Do you have a garden? Regardless of whether it is a flower garden or a vegetable garden, now is a great time to take care of those spring cleaning garden tasks that help to have a successful year in your garden!
This list of the things to do in your garden will help you to have a very successful garden this year! Do these things now and later in the year, you'll be glad you did. 
Spring Cleaning Garden Tasks
Remove Mulch and Prune Your Flowers
Start by removing any dead annual plants, leaves, stems and all. For your perennials, if you see any new growth coming in, it's time to remove the mulch from those as well. 
Cut Back Your Ornamental Grasses
If you left your ornamental grasses up over the winter, now is the time to cut back on them. This will help to create a good growing environment for the coming season.
Clean Any Garden Decor
If you have any decorative pieces hanging in your garden, or tacked to your fence, etc., it probably got pretty dirty and grimy over the winter. Now is the time to clean all of these pieces. It may seem minor, but trust me, it will make a big difference in the appearance of your garden. 
Edge Your Lawn and Garden
Now is the time to get busy edging your lawn and garden. There is no time like the present to get your yard looking beautiful so that you can actually enjoy your space once the weather is nicer!
Plan Out Your Garden
What are you planning to grow this year? How big will your garden be? It's time to get an idea of what your plans and goals are so that you know what work you have in store for you and what you need to have on hand. 
Order Your Seeds and Plants
Okay, not exactly a cleaning project, but with the way shipping is these days, it's a good idea to order your needed seeds and plants.