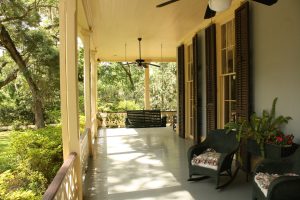 Spring cleaning season is quickly approaching! What projects are you going to tackle? There are plenty of things to do in the house, we all know this, but what else should you add to your spring cleaning checklist? Well, outdoor stuff, of course. 
This outdoor spring cleaning to do list will help you get your outdoor space put together perfectly and let you start spring off just right. What are you waiting for? It's time to get stuff done!
Outdoor Spring Cleaning To-Dos
Clean Your Porch
First and foremost, it's time to tackle that front porch. Pick up any toys or shoes from the porch or anything that you may have set down and left there to be picked up later. Now it's time to remove any and all furniture and decor. Once everything is picked up and moved, it's time to sweep off the porch and any steps, and power wash it if you have the ability to do that. 
Clean Your Furniture
Whether it sits on your front porch, on your back patio or you have some cute chairs in your yard, it's time to get that outdoor furniture cleaned off and ready to be enjoyed this year! 
Clean and Refresh Your Front Door
Give your front door a good scrub and consider painting it or at least the trim. A simple redo of your door like this can give your home a completely different appearance and make a huge change!
I have dogs and I swear no matter how many times I train them otherwise, they are always putting their paws on my door so this door cleaning and refresh is always on the top of my list for outdoor spring cleaning projects. 
Weed Your Flower Garden/Pots
If you have an area for flowers, whether that's in pots or as  part of your garden, now is the time to clip back those old, dead plants, clear the weeds and maybe even plant more flowers! There's nothing like beautiful flowers to bring in a new season!