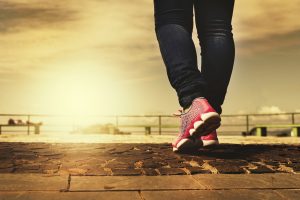 Are you working on health goals? (Aren't we all? haha) Okay, anyway, trying to reach health goals are important, but they aren't always easy to do! If part of your health goals include trying to exercise more in the new year, check out these tips that will make it easier to do so!
It's not always easy to include exercise into your day. Honestly sometimes it feels pretty much impossible. I've struggled with this a lot, however in recent years I have been able to include exercise in my life a lot more than I used to and it has been really great for me in many ways. Read on to see some tips on how you can exercise more this year without it being too difficult.
How to Easily Exercise More in the New Year
Ask Friends to Join
Peer pressure isn't always for bad, my friends! I have learned that I am far more likely to exercise if I know I have friends waiting for me. Or, if my friend calls me up and asks me if I want to go on a walk or workout with them, I hate to say no! This is one of the things that I have found to be most helpful for me. 
Download Some Free Apps
There are so many great fitness apps out there! Sign up for one (or two or three) and see if you find one that you like. I just spotted a deal for a free 2 months of the Peloton App so I am planning on starting that this week. I don't have a Peloton Bike, but I do have a very nice workout bike so I am excited to try out the live classes! 
Tell Yourself that You Are Worth It
You are worth it. You really are. 
If you are anything like me, you tend to put your spouse, your kids and everyone else before yourself. It is very important to stop doing this. Our families and loved ones are important, yes, but if you let your health fail, how will you continue to do all of the things for them that you currently do. It's time to focus on you! It can help everyone!