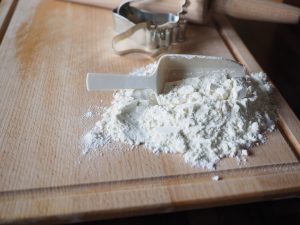 You guys, food is EXPENSIVE. Like seriously expensive. I don't know if it's because I now have a teenage boy in wrestling, or because my 5 year old recently started eating more, or if I am just really starting to pay more attention, but I spend a lot of money on groceries each week. It seems like the morning after a big grocery shopping trip, I'm already running low on food. It's amazing how quickly we go through it. 
I have found though that as long as I keep some specific foods in the house it helps keep our food costs down quite a bit. If you are wondering what these foods are, this list of the most frugal staples to keep in your pantry will help keep you prepared for all the food your growing family will eat and save money at the same time. 
The Most Frugal Staples to Keep in Your Pantry
This list is not all inclusive, but it certainly helps you get started on your frugal pantry!
Spices and Herbs
Salt

Pepper

Garlic powder

Chili powder

Cinnamon

Etc.
Baking Goods
Flour

Granulated Sugar

Brown Sugar

Powdered Sugar

Baking Powder

Baking Soda

Vanilla Extract

Chocolate Chips
Dried Goods
Beans (Pinto beans, black beans, kidney beans)

Rice

Pasta 

Cornmeal

Cornstarch

Peanut Butter

Cereal

Oatmeal

Nuts and Seeds (almonds, peanuts, sunflower seeds, etc)
Canned Goods
Chili 

Beans

Soups

Vegetables (peas, green beans, corn, etc)

Tomato Sauce

Condensed milk

Tuna

Canned Chicken
All of these pantry staples make creating budget friendly meals quick and easy and helps you to keep your grocery budget under control. 
What are your favorite pantry staples to keep on hand? What are your favorite budget friendly recipes? How often do you cook from scratch?