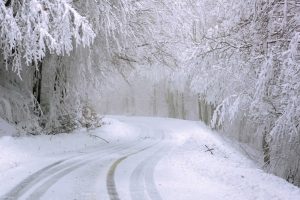 Many of you might already be experiencing winter weather in your area, and many more of you have it in the forecast in the next couple of days/weeks. Regardless of where you live though, you should always make sure your car is ready for inclement weather that often happens in the wintertime.
If you are a new driver or you are new to an area where the winter weather is more "wintery" you may be wondering how to prepare your car for winter weather. Well, wonder no more, my friends. These tips will help you move along easier this winter and stay safe while doing it. 
How To Prepare Your Car for Winter Weather
Preparing your car for winter weather means that you need to do a mixture of things. You need to do some auto maintenance stuff and you need to invest in some winter gear and tools to keep inside of your car.
First thing is first. Here are the maintenance things that you should have done on your car ASAP before the winter weather hits:
Get an oil change

Check the coolant

Change your wipers (if needed) and refill your washer fluid reservoir

Get your battery inspected

Have your tires checked to be sure they are in good condition. Alternatively, switch your tires over to winter tires.
Now, here is a list of things that you should keep in your car to help prevent issues that can come along with winter weather:
Ice scraper

Tire Chains

Jump Starter

Shovel

Rocksalt

Warm Blankets

First Aid Kit

Emergency food and water
As you can see, this list of items includes ways to prevent an accident or ways to help you deal with an accident or becoming stuck in the snow. All of these items will help you out on your winter driving expeditions. 
Be safe out there!