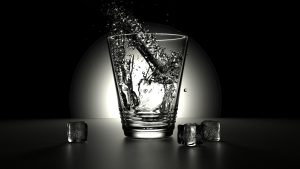 Are you struggling to drink enough water? A good amount of water is vital to our health but many of us slack off when it comes to drinking it. Whether you are planning to get some improvement to your health now or you are planning to make a New Year's resolution, drinking more water should be a part of that change. 
I know we have talked about this before, but drinking more water should be a goal that many of us have, so I figure it's worth talking about again.. Follow along and see how you can drink more water with these tips that we are going to talk about here. 
Drink More Water with These Tips
Set goals
Having goals and writing them down is one of the easiest ways to actually accomplish what you are working toward. If you don't have a concrete goal of how much you want to drink, it's hard to focus on drinking enough if you aren't reaching for a specific amount. 
Get a Great Water Bottle
This may seem silly, but IT WORKS! Having a great, reusable water bottle, preferably one that keeps your water cold will be a huge benefit toward reaching your water intake goals. 
Get a Good Water Filter
Whether you get a filter pitcher, filter bottle or a filter that attaches to your faucet, just grab a filter. Honestly, we are lucky in that most of the water in the United States is safe to drink, but the filters often take the chlorine flavor away from it, which for me is preferable. 
Get an Ice Maker
I don't know about you, but for me to drink lots of water it needs to be ice cold. About a year ago we paid $99 for a countertop ice maker and I have noticed I always drink water now. I love drinking on ice cold water and the ice maker helped a lot! 
What tips have helped you drink more water?