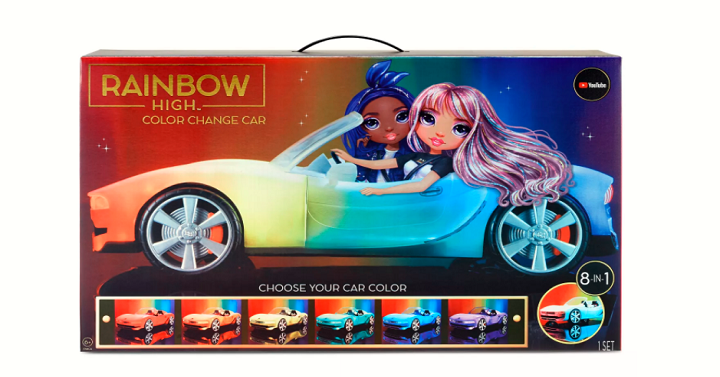 Wow! Through November 6th, you can get this Rainbow High Color Change Car for Only $33.74 Shipped! (Reg. $50). Keep in mind that the sale list price is $44.99, but if you use the 25% off 1 toy coupon, it will bring your price down to $33.74. Rainbow High is a modern fashion doll brand that sparks imagination and encourages creativity. With Grit, Love, Action and Moxie (G.L.A.M), the students of Rainbow High combine their unique creative skills and work together to achieve their unlimited dreams today. #COLLECTTHERAINBOW
Pull up to Rainbow High in style with the Rainbow High Convertible Color Change Car. Take your favorite Rainbow High Dolls out for a spin. Why settle for one color Car when you can have the rainbow? Rainbow High Color Change Car features a white body with 8-in-1 LED Color Changing Car, black interior with RH logo monogram seats, two-seater sporty convertible that fits 2 Rainbow High Fashion Dolls with working seat belts to keep your dolls safe. The car starts white and then you can choose any color in the rainbow (white, red, orange, yellow, green, blue, or purple) or cycle through all of them!
Plus, if you checkout using your Target REDCard you will save an additional 5% and score free 2-day shipping. Don't have a REDCard? You can learn all about it here. It is free and easy to sign up.