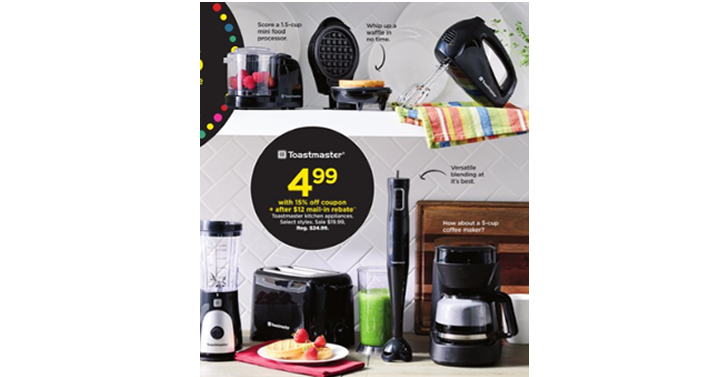 KOHL'S BLACK FRIDAY SALE ENDS TONIGHT!
Small Kitchen Appliances from Toastmaster – $19.99 (Reg $24.99)
Use 15% off code LETSGO15. Submit $12 mail-in rebate. Limit 5 appliances.
$50.97 for 3 appliances after code.
Submit $36 worth of mail-in rebates!
Get 3 $4.99 Small Kitchen Appliances PLUS $15 in Kohl's Cash!
Kohl's is by far one of the most popular Black Friday sales! There are great deals, great discounts and the most popular "Earn $15 in Kohl's Cash for Every $50 You Spend"! That amount of Kohl's Cash usually only happens for Black Friday. The best deals sell out FAST so make your purchases quick!
There is a 15% off code that will be active during the Kohl's Black Friday sale. There will not be a 30% off code. This will be the only code that works during the Kohl's Black Friday sale.

Percent Off Code: Take an extra 15% off – LETSGO15 – valid 11/21-11/26
Free Shipping on $75. No code required.
or
Buy online and pickup in store.
Kohl's Black Friday Kohl's Cash – Black Friday amount!
Earn $15 in Kohl's Cash for every $50 you spend from 11/21 – 11/26. (Redeem 11/27 – 12/8.)
Check out the 2021 Kohl's Black Friday Deals List!