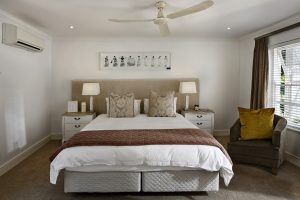 Is your room a bit on the messy side right now? I have been so busy lately that I was unintentionally ignoring just how messy my bedroom had gotten. I don't spend too much time there during the day and I willingly ignored it, but it is far past time to clean it. Both of my teenagers cleaned their rooms this week (without being asked!!) and I just cannot let them have cleaner rooms than me. Haha.  
If you need a little bit of help trying to figure out how to get your bedroom clean and tidy, check out these bedroom cleaning tips for help. 
Bedroom Cleaning Tips
Put your Clothes Away
This is my #1 worst housework habit. I am bad about just putting clothes on my dresser or at the end of the bed. Really, it's not that hard to just put them in the dresser or hang them up and it will make your room look and feel so much tidier. 
Open Your Windows
It feels good to air out your living space once in a while and getting that fresh air feel less stagnant, plus opening up your curtains is a great way to make it brighter. 
Change Your Sheets
Talk about feeling clean! A quick change of your bed sheets will make all the difference. Plus, you'll sleep a lot better in clean sheets. 
Dust
Get a long duster and get the dust away from your blinds and/or curtains and any tall shelving or builtins. It's amazing how much dust can build up over time and even if you don't really notice it now, you'll notice it once it's gone. 
Vacuum
Make it a habit to vacuum your bedroom at least weekly, if not more often. Especially in the high traffic areas of the room. It will change the look drastically.