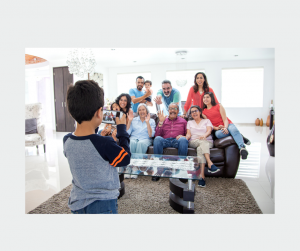 Are you trying to get a great family photo for your crew's upcoming holiday card? If your family is anything like mine, you probably struggle to get everyone looking the same way, let alone trying to make sure everything around you is set up for a great photo. 
These 5 tips to take the best family photos will help you get that perfect shot that you can be happy to have on that card that goes out to all of your family and friends this holiday season. 
5 Tips to Take the Best Family Photos
Coordinate Your Clothes 
No, you don't have to wear matching jammies (although that's always pretty cute), but it's best if everyone sticks to the same two or three colors. Neutral colors are great, black and white are always classics and you can always add pops of color with your accessories.  
Pick the Right Spot
Picking the right spot is half the battle in getting the perfect shot. First of all, the natural light is a big plus for the best photos and let's face it. There are only so many areas in your home that make a great photo backdrop (or maybe that's my house).
Use Your Camera's Features
Cameras are amazing these days. You can make a cell phone photo look like a professional photo with the features that they have. Make sure to take advantage of these!
Use the self timer (you can take the photo and be in it at the same time. Just utilize the self timer feature. 

Use portrait mode. Portrait mode makes for some seriously amazing photos. Use it and no one will ever know that you didn't hire out your photography job. 
Smile
Smile, my friends! You are with your family. Make sure they and everyone that sees the photo knows how happy you are to be with your family. No one likes a holiday card with people looking grumpy on it. 
Avoid Digital Zoom
Instead of using digital zoom, just get closer to your camera. This will help you avoid the pixely (is pixely a word?) look. 
Happy photo taking, friends!