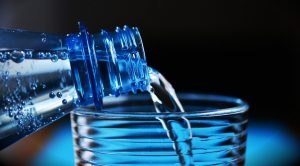 Summer is in full swing and it is hot out there! Are you drinking enough water? Some people seem to do great about drinking water all day every day and then sometimes, some of us simply forget. Drinking enough water is vital for our health though, so it is important to know how to stay hydrated. 
If you are the type that struggles to drink enough water, these top tips for drinking enough water each day are going to help keep you hydrated and feeling your best. 
Top Tips for Drinking Enough Water Each Day
Add Some Fruit To It – Fruit flavored water might just be the key to getting you to drink more of it. Adding some fresh fruit to your water not only enhances the flavor, but it also adds to your vitamin intake. It's a win win!
Eat Your Water – Okay, that sounds weird, but seriously. Eating food with a high water content is a great way to increase your water intake. These foods include lettuce, watermelon, celery, cucumbers and more. 
Get a Great Water Bottle – A great water bottle that keeps your water cold and is easy to carry will do wonders for keeping your water intake up. I recommend a Hydroflask, it keeps water ice cold for hours. 
Make it Part of Your Schedule – Drink a glass of water with each meal, or when you brush your teeth or after you workout. Doing this every day as part of your routine helps create a habit. 
Get a Partner – Get a friend or family member to join you on a water drinking challenge. Having someone challenging you can help provide motivation to drink up. 
Do you drink enough water each day? Do you have any tips for increasing your water intake for those that struggle with this?