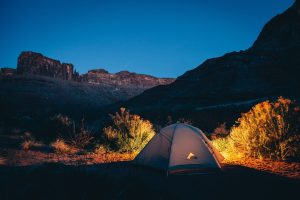 Are you heading out camping soon? Will this be your first camping trip? Are you a little concerned about staying safe while out in nature? Camping is a ton of fun and you can have an amazing time out there, you do need to prepare yourself to stay safe too though, because yes, things can happen and you need to be prepared for that. 
These tips will help you to learn how to stay safe in nature. Have fun, my friends! I hope this camping trip is the best one ever!
Camping 101: How to Stay Safe in Nature
Bring a First Aid Kit
We all know how important first aid kits are, right? This is especially true when out in nature without a medicine cabinet or store nearby. Make sure you have a full first aid kit than can help with any ouchies that happen while out in nature. This should include bandages, alcohol wipes, allergy medicine, pain relief, etc.
Bring Bear Spray
If you are really out there camping in nature, a can of bear spray can go a long way toward making you feel safer out there. It seems like I am reading more and more about bear attacks or close encounters these days, so I'm always prepared with spray, even if I think my camping destination is not at risk of a bear sighting.
Sunscreen
I have gotten the worst sunburns of my life while camping. Even if you have lots of trees around you, you will be in the sun more than normal. You don't want to come home in pain and burnt to a crisp, do you? BRING THE SUNSCREEN.
Watch the Weather Reports
You don't want to get caught up in a storm that could hurt you or leave you stranded. Pay very close attention to the weather as it leads up to your trip. If the weather is going to be bad, consider cancelling. I know it's a bummer to cancel vacations, but it's a bigger bummer to be injured on vacation.