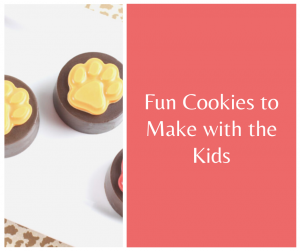 Are you in a cookie making mood? I don't know what it is, but my kids have been asking for cookies way more often than they typically do. Not store bought cookies either, they are asking mom to make them their favorite homemade cookies and have even just been asking if we can have a cookie making day. I'm a lover of sweet things and I love spending time with my kids so I'm not about to say no to them. 
If you want to have cookie making day too, here are some fun cookies to make with the kids. Some of them do require a cookie cutter or mold, but you can easily order them off of Amazon and have them here in just a few days! 
Fun Cookies to Make with The Kids
These cookies are all so cute, you might have a hard time eating them! They almost look like they are decorative.
Easter Oreos – Despite the name, these pretty cookies can be made anytime! They really are pretty too. They would work well for any princess party, or for the non-kid events they would be perfect for wedding or bridal shower. 
Jungle Pawprint Cookies – Do you have a kid that just loves learning about the jungle? Or maybe one who loves The Lion King? They are going to love these super fun Jungle Pawprint Cookies. 
Zombie Llama Cookies – Okay, this one might not be quite your style but if you are into zombie fun, these cookies are going to be so much fun to make! 
Peanut Butter Blossom Cookies – These are fun to make because of that classic Hershey kiss right there in the middle, but they also offer that deliciously rich and flavorful peanut butter and chocolate flavor burst. We all love that, right?
Do you have any fun non-typical cookie recipes that you like to make with your kids?