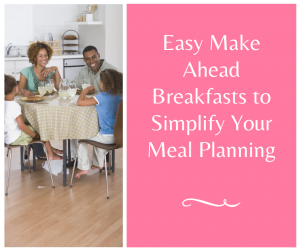 Do you meal plan and meal prep? Although I don't do it as often as I should or as often as I would like to, but let me tell you, when I do it makes all the difference in the world as far as my time and my stress levels. As a wife, mom of three and small business owner, let me just say that life can get crazy if I don't have my ducks in a row. 
So, to be frank, I have had enough right now and I am doing some serious meal prep and planning this weekend and that's why I have put together these easy make ahead breakfasts to simplify your meal planning. I know I'm not the only one struggling here. 
Easy Make Ahead Breakfasts to Simplify Your Meal Planning
These are some of my family's favorite make ahead breakfasts that I have made for them in past, so I often make these recipes when I am doing my meal planning. 
Sheet Pan Pancakes – Sheet pancakes are always a hit with my family. They just really, really like pancakes. I really like these particular ones though because they come with fruit made right into them which reduces the "need" for syrup or other sugar filled toppings. 
Granola Bars – Homemade granola bars are relatively new to me, because well, I don't like granola bars. My kids and husband, however, are another story and they all love granola so I finally decided to learn how to make them for them and guess what?! They are super easy! They are also great for those mornings when you really just need a grab and go breakfast.
Chocolate Banana Muffins – Muffins are another great option for grab and go breakfasts and this one is delish! These Chocolate banana muffins always go quickly whenever I make them at my house so I tend to double the recipe and freeze a bunch before the kids spot them.