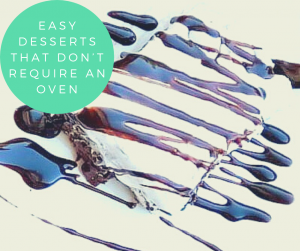 Do you love a good sweet treat every once in a while? I know I do. I actually love dessert way too much, but that's neither here nor there. I'm not going to feel guilty for indulging myself every once in a while. Instead, I'm just going to find more delicious goodies to make for myself and my family! 
Did I mention that I'm going to be finding easy desserts that don't require an oven? Not only do I love to indulge in a good dessert every once in a while, but I also just don't want to spend too much time on them sometimes. I just want to get my sugar fix! You know what I'm saying, right? 
Easy Desserts that Don't Require an Oven
This isn't your typical Sundae, but it's super tasty and requires just three ingredients. Did I mention that it takes just a few short minutes to whip together? It's true!
Sometimes you just need a little ice cream in your life, don't you think?
I think I may have mentioned these in a previous post, but these are easy to make, they improve upon an already delicious dessert (Oreos!!) and they don't require an oven. Bring on the Easter Oreos no matter what time of year it is. 
Besides, they are just so pretty!
I have made this Swiss Roll Pudding Cake Recipe several times now and I always get countless comments about how delicious it is. It is also extremely easy to make. If you are preparing a dessert to take to a get together, this is a great option because people will never guess that you only spent a few minutes prepping it. 
I also love that you can add any toppings you like or no toppings at all! It's equally delicious!
What is your absolute favorite easy dessert to make and enjoy? I'm all for adding more delicious recipes to my list of favorites.