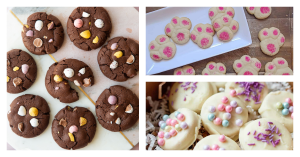 Easter is just a few short weeks away!!! Are you ready? Do you have your Easter basket goodies all set. Do you have your Easter menus planned? Are you in the same boat as me and looking for some delicious cookies for your Easter Celebration?
Easter means a lot to my family and I always try to make it special. One way I try hard to make it special is by enjoying lots of delicious treats each Easter. That includes making some really awesome cookies for our whole family to enjoy. This year, I'm trying to decide between these recipes I have listed here. Which ones would you choose?  
Delicious Cookies for Your Easter Celebration
Easter Oreos are a fun and colorful treat that is not just perfect for Easter, but all sorts of holidays and special occasions. Chocolate dipped Oreo cookies are easy, affordable, and a hit with both kids and adults alike. 
Did I mention how beautiful these cookies are?!
These Easter Sugar Cookies are adorable and I just know that my kiddos would love them. Soft and tasty and perfect for your Easter treat table! They also look like they would be great treats to slip inside of Easter baskets. 
Do you add treats to your kids' Easter baskets?
Bring on the chocolate! C'mon, you knew that I was going to include a tasty chocolate cookie in here too, didn't you? We all know that I love chocolate and cookies are no exception. These Chocolate Easter Cookies are definitely going to be on my Easter treat table this year. 
Do you love your cookies with a little bit of chocolate too?
Do you have any amazing Easter cookie recipes that you would like to share with us? I'm sure that I'm not the only one trying to find awesome recipes to make this year. We are still having a quiet holiday and I'm ready to celebrate it with yummy food!