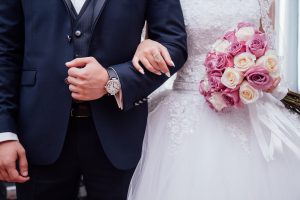 Are you planning a wedding soon? Did you know that the average wedding in the US is just under $30,000? I know I'm a bit of a cheapskate, but that just seems to be a little too much to me. How about you?
If you don't have this much money to spend on your wedding, or if you would rather have that money spent on something else, here are 7 ways to save money on your wedding. Any of these tips individually can help you save money, but once you start adding several of these together, you can save big money.
7 Ways to Save Money on Your Wedding
These money saving tips can bring your stress levels down on this incredibly important day in your life. 
Cut Down on Your Guest List
There is no secret that the more guests you have at your wedding, the more money you need to spend. With more guests you have the higher expense of more food, more drinks, more chairs, a bigger space, etc. 
Choose an Off Season Date
Summer weddings are often more expensive. Consider scheduling your wedding during the "off season" and  you might be surprised by how much money you can save on your venue as well as other services.
Additionally, avoiding popular days of the week can save you big money as well. Say no to a Saturday wedding for example and you can save a lot of money on your venue and other wedding services. 
Avoid Flowers
This may be a no-go for you, but if you choose to go with a non floral theme, you can save a significant amount of money on your wedding costs. Many people choose to go with real flowers for their bouquet and nothing else, to keep the costs down. 
Limit Your Bar
Sure you want to have a bar (and no, not a cash bar…that's tacky), but one way to save a significant amount of money is to limit the types of alcohol you serve at your bar. Offering solely beer and wine for example will help you save money, while also keeping your guests happy. 
Have you planned a wedding recently? What tips did you follow to save money?