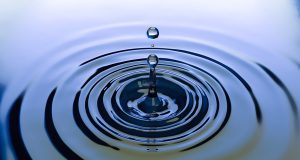 Whether you set New Year's Resolutions or not, I'm sure you could handle setting some new health goals for yourself. All of us can. For an easy one, how about we focus on making sure we are drinking enough water?
If this sounds like a good health goal to try and reach, let's do it together. Here are 5 tips for drinking more water that we can all work together to do.
5 Tips for Drinking More Water
These tips will help you to have an easier time drinking more water throughout the day.
Get a great reusable bottle. 
If you have a great reusable bottle that you can carry with you throughout the day, it will be easier for you to drink more. For me, for example, I love ice cold water and I am far more likely to drink water if it is cold. That's why I keep my Hydroflask bottle with me all the time. My water is ice cold all day long.
Keep a Glass of Water on Your Nightstand
Many of us get thirsty at night, but when you are all snuggly and warm in bed you can easily avoid getting up to get a drink. If you keep a glass of water on your nightstand, you are more likely to drink when you need to. 
Eat Lots of Fresh Fruits and Vegetables
Did you know that many fruits and vegetables have a high water content? It's true. They do. So, you are not only adding healthy foods to your diet and getting more nutrients and less calories, but you are also adding to your water intake.
Swap Out Juice for Infused Water
Need flavor in your drink? You can still drink water and get all the flavor! Just be sure to ignore the soda and juice and add some yummy fresh fruit to your water. This will not only keep you more hydrated, but you will also be getting more vitamins and nutrients in your diet. 
Set Goals
Are you a goal oriented kind of person? Set water drinking goals for yourself and you might just find yourself significantly increasing your water consumption throughout the day.