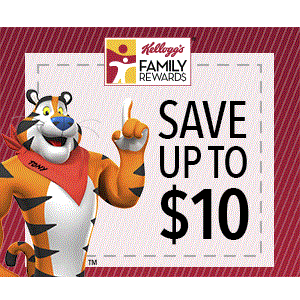 Kellogg's has released a new FREE code to add more points to your Kellogg's Family Rewards account! Just click on the banner above and enter the codes below to earn 100 FREE points:
HOHOHOLIDAYFUN20 – 100 points (expires 12/31)
Also if you haven't logged points in awhile you can give these codes below a try for even more points!
KFRQUIZBIGPOINTS – 500 points
JUMBOSNAXAREGOOD = 100 points
EARNGREATREWARDS – 20 points
HOWITWORKS20PNTS – 20 points
EARNSWEETREWARDS – 50 points
25FREETOCOOLDOWN – 25 points
HIGHTEMP25FREE4U – 20 points
HOTHOTHOTPTS4YOU – 25 points
If you haven't already done so, you'll want to sign up for Kellogg's Family Rewards Program (click on the picture above to sign up). By signing up for this program you can enter codes from your purchase of Kellogg's products and earn coupons, prizes & sweepstakes entries!