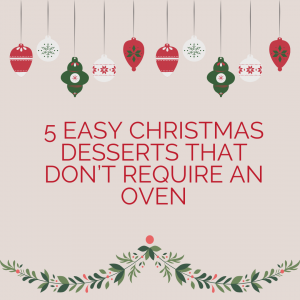 Have you started your holiday dessert indulging yet? I don't think I ever eat desserts as much as I do during the holiday season. And this is every single year. As much as I love to enjoy holiday desserts though, I don't always like to be baking. Sometimes I just love baking, but not always. That's why I have decided to keep a nice selection of recipes on hand for Christmas desserts that don't require an oven. 
If you are ready to start making some yummy holiday treats for yourself or for others, here are 5 easy Christmas desserts that don't require an oven.  
5 Easy Christmas Desserts that Don't Require an Oven
This Swiss Roll Pudding Cake is delicious and ridiculously easy to make! My family loves it when I make this easy Christmas Dessert! Depending on my mood I will top it with different things such as sprinkles, chocolate sauce or caramel. Most of the time though, I just serve it as is. 
If Salted Caramel tops the list of your favorite treats, you are going to love this salted caramel chocolate pie. Did I mention that it looks delicious too?
Where are all my Nutella fans at? This Nutella Cheesecake is all the rage in no bake desserts. You are going to love it!
If you have any Lemon Oreos on hand, here is an awesome idea for them! This Lemon Oreo no bake cheesecake looks absolutely delicious!
You knew that Rice Krispie Treats had to make this list, right? These Peanut Butter Cup Rice Krispie treats are going to be your kids' next favorite!