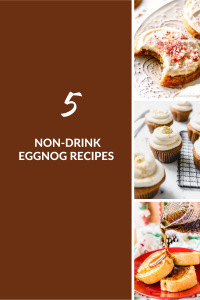 Are you a fan of eggnog. ? Most of us seem to be an extreme one way or the other on our thoughts about the classic holiday drink. Even if you aren't a fan of the drink though, did you know that you can make non drink eggnog recipes? It's true. 
I happen to HATE eggnog as a drink, but I love the taste of it so I was all for trying out some eggnog cookies that a friend once made at a holiday party. They were so delicious, I just knew that I had to try out even more non drink eggnog recipes. If you are like me and like the flavor, but not the drink, check out these 5 non drink eggnog recipes that you just might love!
5 Non Drink Eggnog 
This is close to the recipe that I enjoyed when I tried out my very first eggnog cookie recipe. This recipe is actually a yummy snickerdoodle recipe, topped with a rich eggnog glazed and it is oh so good!
Let's add a little Christmas flavor into our coffee, shall we? When you want holiday flavor, but peppermint isn't your thing, this powdered eggnog creamer will do the trick. 
Okay, this one technically becomes a drink, but that doesn't count, right? 🙂
Bring the taste of the holidays to breakfast! Eggnog French Toast is such a delicious holiday breakfast treat, you might just want to enjoy it year round. 
Who doesn't like cupcakes? I know that everyone in my family absolutely loves these rich and tasty Eggnog Cupcakes.
Every Christmas needs holiday decorated cookies, right? These eggnog cookies are great for bringing in that great eggnog taste and for getting the kids in on the holiday fun!