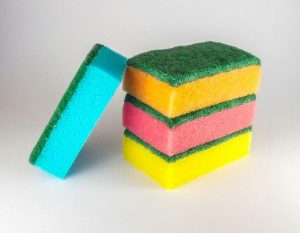 As a busy mom, I feel like I spend half of my life cooking and cleaning house or chasing after my family cleaning up after them. I love them, therefore I don't hate it, but I would enjoy doing the cleaning part a little less often. 
I'm sure you understand where I am coming from. It's exhausting! If you are in the same boat as me and you are ready to start saving time on housework, check out these 3 tips that I promise will help you! I started following these tips a couple of years ago and boy oh boy it has changed my life. 
3 Tips for Saving Time on Housework
Have a Cleaning Day
Schedule a spring cleaning type day and get everything in order. I'm talking about one of those days where you toss stuff out, you donate other stuff and you put stuff in storage.
Get Rid of Some Stuff
Let's be honest here, most of us have way too much stuff (as you will see during your cleaning day). Don't be afraid to toss out some stuff. The reality is, keeping a house will less stuff makes it much easier to keep it clean.
Do Freezer Cleaning  
You may not think that a day spent cleaning is going to be helpful in saving you time on housework, you are wrong. A day full of freezer cooking will create lots of dishes and a messy kitchen, yes, but after that? Very few dishes for the time period that you have meals in the freezer. I prefer to use handi-foil type pans for my meal prep, because they can just be tossed in the trash later on. It may not be ideal all the time, but sometimes a mama has to pick her battles. Scrubbing baked-on foods is not a battle I like to fight. 
Chores
Make your kids do chores. It will make your life easier and it will help teach them life skills that they need to learn anyway.