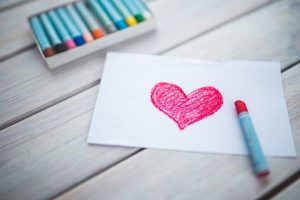 Do you have plans this Valentine's Day?  In case you didn't know, Valentine's Day falls this coming Friday.  I don't know about you, but I don't like spending a lot of money on Valentine's Day, additionally, I'm not a big fan long waits and busy crowds when I go out to dinner, so I have no plan of going out on Friday. 
I do want to celebrate my love though so I do have plans. If you are looking for something to do, you too can choose between these 5 budget friendly things that you can do this Valentine's Day.
5 Budget Friendly Things That You Can Do this Valentine's Day
Dollar Store Cards 
I HATE spending a lot of money on greeting cards. Hate it. That's why I love the dollar store. I always find a great selection to choose from and most of the stuff that I have to say to my husband I write in there myself. They are perfect. 
Dinner at Home 
I love cooking with my husband. Cooking dinner to enjoy together is a fun way to spend time together and it is much less expensive than dinner out. 
An Evening Walk Together
One of the most romantic things that you can do is hold hands and go for a walk together with your special someone. The exercise is good for you, and the time spent together is wonderful for bonding. 
Movie Night with the Kids
No need to leave the kids out of the holiday celebration!  Turn on Netflix and see what looks like fun for the family to watch. 
Wait until Sunday
Seriously. By the time Sunday rolls around, Valentine's treats and gifts will be significantly clearanced down. Why not wait until then to celebrate the day together?  You will save time, the crowds will be thinner and hey…who doesn't like half-priced chocolate?
What is your favorite budget-friendly activity for Valentine's Day? What are you planning?