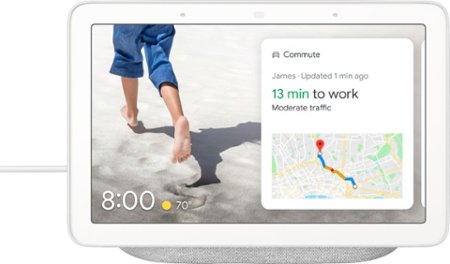 If you're planning on purchasing a couple Google Nest Hubs, there's a great deal at Best Buy that you can snag right now! Get a bundle of TWO Google Nest Hubs with Google Assistant for just $99.99! That's a savings of over $150.00! These also make great gifts!
Help at a glance
Google Nest Hub helps you make the most of moments at home.
Command your day
With Voice Match, get your calendar, commute, reminders, and more right on the home screen. You can even watch the news, make a shopping list, and place calls to friends, family, and local businesses.¹
Simplify your smart home
Voice control compatible lights, cameras, TVs, and more from a single dashboard. Works with Nest and 5000+ smart devices from 400+ popular brands.
7-inch touch screen
View more information and content at a glance, clear and crisp.
Answers for any moment
Ask questions and get visual, immersive answers from Google on weather, recipes, local business information, and more. You can even watch helpful videos from YouTube.
Play your favorite songs
Use your voice to play your favorite songs, albums, artists, and music videos from YouTube Music. You can also listen to Spotify and Pandora. All available free.
Relive your memories
Use your voice to show any picture you've ever taken in Google Photos. And with Live Albums, always view the latest photos of loved ones.