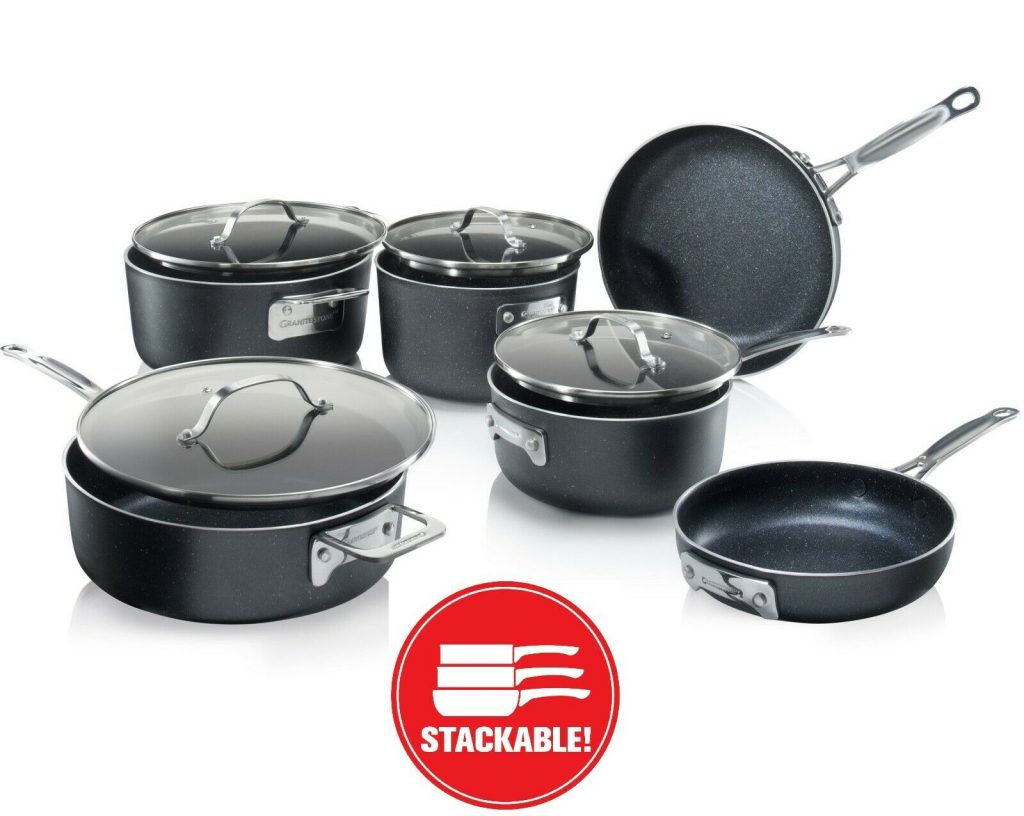 Head over to Amazon and pick up the GraniteStone Stackable Pots and Pans 10-pc Cookware Set for only $119.99! (Reg $399.99)
Save space in your kitchen and revolutionize the way you cook with the Granite Stone Stackable Pots and Pans Set. Our uniquely designed cookware lets you easily stack and nest pots and pans – saving you 30% space in your kitchen and opening up precious cabinet space. This cookware set is triple coated with our ultra-nonstick cast-texture coating which doesn't need to be pre-seasoned, ensures the ultimate release, is durable to withstand metal utensils and is dishwasher safe!
Space saving – the Granite Stone stackmaster's revolutionary new design allows you to easily organize your cabinets by stacking and nest the entire cookware set together, Saving you 30% more space in your kitchen & freeing up precious cabinet space.
Ultimate non-stick – our best nonstick cooking surface is coated 3x, reinforced with ceramic and titanium to deliver the ultimate food release. No oil or butter needed makes for healthier eating, and provides for hassle free, 1-2-3 cleanup.
Super durable – the coating of the pan is durable enough to withstand metal spatulas, spoons, whisks and more, while the aluminum exterior is dense, nonporous, and highly wear-resistant for long lasting performance.
Stay cool handles – Solid stainless-steel cool touch handles stay cool on the stovetop and provide a safe and solid grip.
Dishwasher safe – spend less time with cleanup! After all the cooking and prepping is done, place cookware in the dishwasher for quick and easy cleanup.
Oven safe up to 500°f. Tempered glass lids let you monitor food while it cooks. Lids fit tight to seal nutrients for more flavorful results.