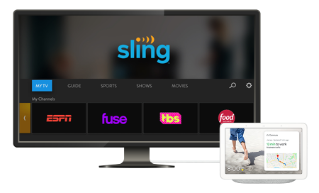 Ready to cut the cord with your cable company? Sling TV is a great place to start! Sling is America's #1 Live TV streaming service. You can watch top shows and channels without any cords. All you need is an internet connection and a streaming device. We tried Sling last year, and LOVED it!
It's also a great time to sign up for Sling if you want to give it a try. You can get a FREE Google Nest Hub when you prepay for 3 months of Sling TV! You can even watch TV from Sling, no remote required. Simply use your voice to launch the app and tell the Google Assistant what you want to watch for a button-free viewing experience. You can watch on the portable 7" screen or even pair your Google Nest Hub with a Chromecast to watch on your TV.
You can use Google Nest Hub for way more than just watching Sling, too. Stream your favorite music apps, control your smart home tech, access your Google apps and view your favorite photos all from one convenient device. Your Google Nest Hub is sleek and portable, making it easy to bring it with you and watch the TV you love from wherever you want.