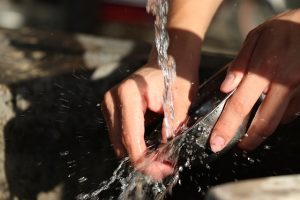 Okay, I just want to say that as a mom of three, I spend a ridiculous amount of time cleaning my kitchen. I mean, I have the kids help too, but I have a toddler, a middle schooler, and a high schooler.  My toddler can't help much, of course. My teens are both athletes and they are literally rarely home and I can't just let the dishes sit while we wait. . 
Tips for Saving Time Keeping Your Kitchen Clean
Clean up after each meal.

This is a great way to get everyone involved in cleaning up.  When you sit down for family meals, everyone needs to pick up their dishes rinse them in the sink and put them in the dishwasher. This little habit will save so much time on housework in general.

Make a chore chart.

  Even if your kids are busy, make sure they do their part at home by making them responsible for doing specific chores.  On the weekends or whenever they are free, have them be responsible for the kitchen at least once a week.

Do a nightly cleanup.

  Before bed, take 5-10 minutes to do a small clean up in the kitchen.  Finish loading whatever dishes weren't loaded after dinner, wipe the counters and start the dishwasher.  Waking up to a clean kitchen is a good way to start the day.  

Make one dish meals.

Do you ever make one-pot meals?  We all know that pots and pans are the worst part of doing dishes and they take the longest amount of time.  If you put your focus on making one pot meals, you will be amazed at how much time you will save in cleanup.

Meal prep.

  Do you meal prep?  If you use a day off to prep meals for the week ahead you will definitely have a lot of dishes to do that day, however, that saves you from having to wash pots and pans every night.  
What ways have you found to save time keeping your kitchen clean?