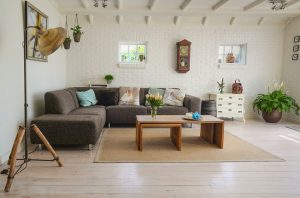 It's super rainy outside today.  For some reason, I always clean best when it is rainy and blah outside.  So today I am cleaning. I am like deep cleaning, you know the kind. I'm washing shower curtains, cleaning door jams, moving decorative pieces to dust under them, etc.  Since I'm already moving them long enough to clean them, I might as well move them to a different part of the house to shake up the look of the place a bit. Does anyone else do this?  The problem when i do this, is that I inevitably end up with an empty space, because I will find that I am over some pieces and i want a change.
That being said, I am also a girl on a budget, so I can't just run out and buy any piece of home decor that I want.  I have to shop smart. That's why I am always looking for the best way to save money on home decor and here is how I do it:
Shop Amazon.  Amazon is a great place to find great deals on home decor items such as drapes, wall decals, and prints. I have purchased sheer window panels for just $6 per pair on Amazon!  Plus, I don't even have to leave the house!

Shop thrift stores.  I love love love going thrift shopping for housewares!  I tend to hit up the thrift shops that are in high end neighborhoods, where people with money trade out their decor often and then donate it, so that I can buy it for pennies on the dollar. Do not assume that just because it's at a thrift shop that it won't be old, ugly.

Check out Buy/Sell/Trade Groups.  Are you on FB? Check out the multitude of buy/sale/trade groups on Facebook and see what awesome deals you can find!

Yard sales.  Yard sales are an absolute awesome place to find sweet home decor treasures at a steal!  Check them out, you won't regret it. I do want to remind you though to stick to the high end neighborhoods for the nicest pieces at the best prices.
What are your go ways to score deals on home decor?