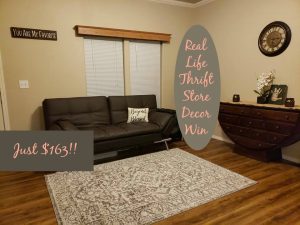 Okay, as much as we all like to save money, I know that there are plenty of people out there that just can't handle the thought of decorating using things found at yard sales or thrift shops.  The truth is though, you can find some excellent pieces at amazing prices and you can put together a great look in your home.
I'm about to share with you some of my recent purchases and the price I paid for each piece.  Sure, not everyone has the same style, but I am quite proud of my set up here and for the budget I was working with, it is quite astonishing.
So, I recently moved into a home that is literally twice the square footage of my old home and in this new home, I have a family room and a living room.  We spend most of our time in the family room and I had no idea how I was going to decorate or furnish the living room because of how much I had spent on the rest of the house.  
Here's what I spent on this room and let me tell you I get compliments from every person that walks in this room.  Little did they know I spent less than $200 on the ENTIRE thing.
Buffet (yard sale) – $20
Futon/Sofa (brand new at a local liquidation store) – $115
Clock (Goodwill) – $5.99
Rug (Overstock) – Free with credits from past purchases.
Beyond Blessed Pillow (Walmart) – $5.98
You are my Favorite Sign (Goodwill) – $2.99
Candle Holders (Safeway Clearance) – $4.20 for both
Potted Fake Plant (Goodwill) – $4.99
Isaiah 49.16 sign (yard sale) – $1
Table Runner (Goodwill) – $2.99
Total Spent: $163.14
So, what do you think?  Was this $163 well spent?  I've got to be honest with you.  I'm actually quite happy with how I made this budget work for this space!
The point of this post though is to show you that you can fully decorate and furnish a space without putting much money out at all.  I could have easily bought a used sofa for $20-$50 and saved close to another hundred dollars.