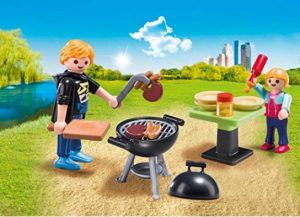 I know that we just talked about how to save on a BBQ, but with Memorital Day just a couple of weeks away, let's talk a little bit more about how we can make a great Memorial Day BBQ without breaking the bank!  Are you ready to start planning now?
You have plenty of opportunities to have an amazing memorial day weekend without breaking the bank.  
Here are 5 tips to throw a great Memorial Day BBQ on a budget:
Decorate on the Cheap
I know that you want your BBQ to look great.  You don't need a lot of money to do that. You can actually head on over to the dollar store and grab some disposable table cloths, some napkins and paper plates and disposable silverware.  For a patriotic theme stick to getting these in red, white and blue and you can have your decor covered. I love the look of twinkle lights too. You can buy these or break out your white Christmas lights for this look.
BYOB
If you are planning to have alcohol at your BBQ, consider having a BYOB party.  That means Bring Your Own Bottle for those that don't know. Booze can get expensive, so don't deal with that expensive on your own.  This is perfect anyway because sometimes people are very particular about their drinks, so no worries on whether or not they would like what you get.
Do it PotLuck Style
Don't feel bad about asking your guests to contribute.  Send out your invites by saying "Hey guys, Memorial Day BBQ Party at my house, pot luck style"  I promise people won't be offended, people love to contribute!
Skip the Booze
We talked about it earlier, but if you choose to simply not have booze at your party, you would severely cut down on the costs associated.  When you serve alcohol, you either need expensive mixers to go with your liquor, or expensive beer/wine. Just go without and you are good!
Stick with Cheap Foods
Hot dogs and chicken legs or thighs are just about the cheapest foods that you can throw on the grill.  If you are serving a lot of people, these are all great options. I have found that it is better to have fewer meat sources anyway, so that there aren't major decisions and no one has to be jealous that they missed out on the steak, etc. 🙂
Do you have memorial day BBQ plans?