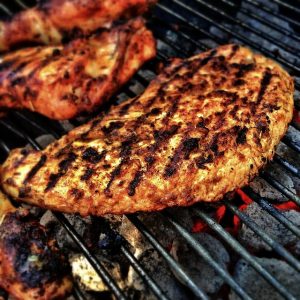 Oh my goodness, I am so very ready to start firing up our grill more often, aren't you?  Just me? We have had one BBQ so far this season and I would be happy literally having them every weekend.  I love the friends and family aspect, I love the yummy food and I just love being outside in the warm weather.  How about you?
I don't love though that BBQ celebrations can get super spendy if you aren't careful. It doesn't have to be that way though, so don't stress it too much.
Here are 5 tips to throw a great BBQ on a budget:
Stick with the Basic
Yes, you want to have yummy food, but that doesn't mean that you have to have expensive, fancy foods.  Chicken legs, burgers and hot dogs are always favorites at our BBQs. Don't forget to use coupons when you are out shopping for your food too!  I always like to recommend checking the meat markdown section for killer deals too, especially if you are shopping the day of your BBQ.
Have a PotLuck
Let your guests know that they are more than welcome to bring a side dish, drink or dessert.  The more food the better, right? Oh and trust me, most people like to contribute to the meal.  The more food that others bring, the less food you have to buy. Bigtime savings!
Lots of Ice
Let your guests bring their own drinks if you want, but make sure that you have lots of ice on hand!  You need to keep your guests cool in the heat if you want everyone having a good time, right? Ice is cheap, so this one won't break the bank.
Skip the Decor
Literally, you don't need to decorate at all.  Like at all. If it is just a friendly get together with friends and family, they aren't going to care that you didn't decorate all fancy for them. I typically just make sure that I have napkins on hand, a disposable tablecloth for the food table and for evening BBQ, I break out the Citronella torches, to combat the mosquitos.
Don't forget Dessert
You can't forget dessert!  If you are on a really tight budget, buy a bucket of cheap ice cream or maybe even some fudge bars or other cheap treat.  Or, like mentioned above, accept the offer of dessert from your guests
How do you keep your BBQ budget under control?