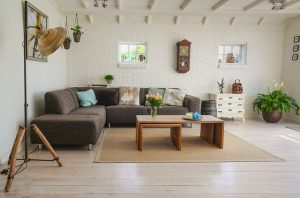 Are you wanting to put up some new decorations in your house?  Or, have you recently moved and you are looking to get it decorated?  
Are these things slowed down because you are broke or, at least, on a budget?  Guess what? Your budget doesn't have to dictate whether or not you can have a nicely decorated home, you just have to go about it a little bit differently!
Decorate Your Home on a Budget with these Tips
Search for a Buy Nothing FB Page
In my local community there is a Buy Nothing Group on Facebook and people are always offering great stuff for free!  In the last week alone, I have seen gorgeous curtains, a bed set and some cute nightstands that they are giving away.  I love these groups!
Head to the Thrift Shop
Thrift shops are a great place to find really good deals on home decor.  My local Goodwill has an amazing selection of wall decor for pennies on the dollar.  They also sell Target overstock products and I often see brand new, super cute decor pieces for cheap!
Stop at Yard Sales
Summer is coming and that, my friends, means that you are going to start seeing some yard sales at every corner!  I love summer weekends for that reason (and more of course)! I have found some really really good buys at yard sales over the years and at the beginning of my marriage, exclusively bought all of my home decor at yard sales.
Just know that a nicely decorated home doesn't have to be expensive.  As a matter of fact, my mother in law has a beautiful, three story, expensive home with an amazing view of the valley below.  I am telling you, this home is worth upwards of ¾ million dollars and she decorates her home buy shopping at yard sales and thrift shops.  You would never assume that when you look at it, but it's true.