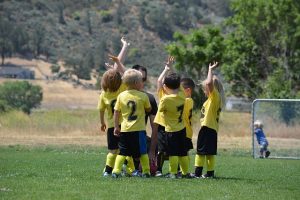 Do your kids play sports?  Mine do and let me tell you, it can get very, very expensive.  I'm sure I have told you before, but I have 3 kids, their ages are 14, 11 and 2.  Thankfully I don't have all three kids in sports at once, but just the two can cost a pretty penny sometimes.  Not too long ago, I spent $600 in one day signing my kids up for basketball and buying their shoes. Never again, my friends!  I love that my kids play sports, but I need it to be more affordable than that!
Here are some of the tips I follow on how to save on kids sports:
Ask for scholarships.  Most schools and/or kids athletic programs offer scholarships.  Sometimes you have to meet an income requirement, but not always.  Just check it out! Also, if a payment plan works better for your budget, you might find that you can do that too!

Shop clearance.  Gear is expensive!  Shop the clearance section of your local sporting good store for the gear you need.

Shop second hand.  Just because gear has been used, means nothing, it is likely just as good as the brand new version.  I don't recommend this on shoes, but otherwise I say shop used!

Look for a giving closet.  In my local kids inc office (local sports program for kids), they have a huge room full of second hand stuff that they give away to kids that are playing sports and whose parents might be having a hard time affording.  Don't be afraid to check them out. I have personally donated brand new stuff before.

Look at other programs.  A sports program at a different club or even in a neighboring town might actually be considerably cheaper than the one you have been checking into.  Don't be afraid to check it out. You might be able to save big!
How do you save on kids' sports?