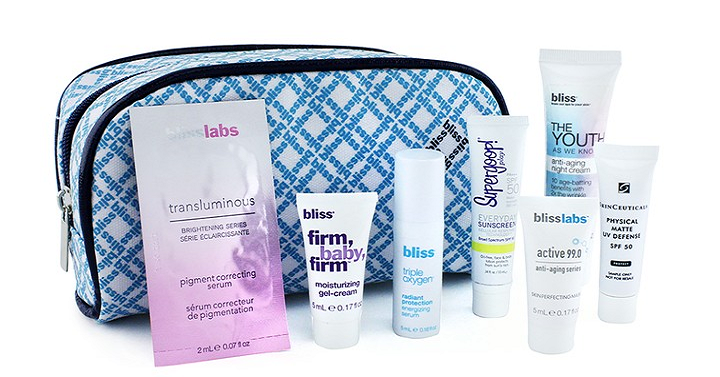 Tanga is offering the Bliss Printed Cosmetic Bag with 7 Travel Size Anti-Aging Essentials for only $9.99! This is a $49 value and comes with:
Bliss Labs Transluminous Pigment Correcting Serum, 2mL
Bliss The Youth As We Know It Anti-Aging Night Cream, 15mL
Bliss Triple Oxygen Radiant Protection Energizing Serum, 5mL
Bliss Firm, Baby, Girm Moisturizing Gel-Cream, 5mL
Bliss Labs Active 99.0 Anti-Aging Skin Perfecting Mask, 5mL
Supergoop! Play Everyday Sunscreen, SPF 50, 10mL
SkinCeuticals Physical Matte UV Defense, SPF 50
Printed Bliss Cosmetic Bag
Perfect for trying a variety of anti-aging items before you commit to a full bottle and pay full cost. Plus this will ship for free so there's no extra costs added.