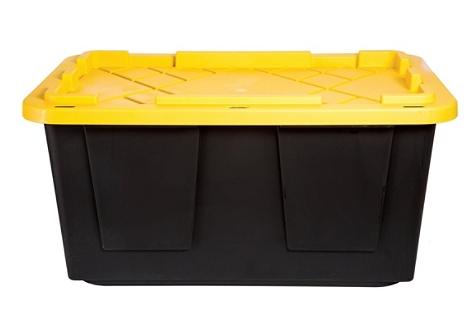 One of the best storage totes out there! Head over to Office Depot/Office Max where you can get these Centrex Plastics Tough Box Storage Totes, 27 Gallons for only $8.99 when you buy four or more! Plus, use promo code 27389830 to save an additional 20% off! AND, if you select in-store pickup you'll also score an EXTRA 10% off your purchase! AMAZING! Here's a quick breakdown:
Add (4) Centrex Storage Totes, 27 Gallons currently on sale for $8.99 each. Price will automatically drop to $8.99 each in shopping cart with 4+ totes
Select in-store pickup to get an additional 10% your purchase
Add promo code 27389830 for an extra 20% off your entire purchase
Final cost is $$25.17 for FOUR large totes! That makes each one only $6.29!
These keep items safe an secure and stack very nicely on top of each other! Our storage racks in our garage are filled with these! Definitely grab some while these additional savings are available!