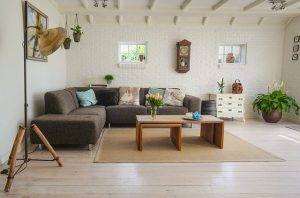 Are you sensing a theme here yet?  I am really into getting my house in order before summer begins and like all of you, I am super busy so I am trying to get it done in as little time as possible.  
What is your process for cleaning your living room?  Do you feel like you are spending too much time on it?  We can do better my friends! It doesn't even matter how big or small your living room is, you can get it clean in less than 10 minutes.  How can that be done, you ask? Well here is a list of several tips I have created to teach you how to clean your living room in 10 minutes or less.  If you have any tips to add in, let us hear about them!
Pick up all blankets/throws, etc. and fluff your throw pillows.  I don't know how things are in your house, but my kids always have blankets on the sofa with them.  (Even when it is warm outside). If your house is the same, then start here! Get those blankies folded up and put away in the closet or on their beds, etc.  Now it is time to fluff up those pillows that are supposed to be on your sofas.

Do a quick scan for dishes, papers, trash, etc.  Again, I have children and yes I let them eat in the living room, maybe I shouldn't, but it is what it is.  Because of this, I will often find a hidden granola bar wrapper or cup left sitting on the coffee table.

Put away any toys that have been left out.  My toddler plays with his toys all day every day with no regard for what room he is in, so we have multiple toy boxes in the house, one of which is in the living room.  I do a quick sweep for toys and get them stored in the toybox.

Dust.  Take a microfiber cloth and dust your tables and entertainment center, tv, etc.

Vacuum.  Now it's time to run the vacuum really quick.  
I always end the cleaning session by spraying Febreze or turning on my wax pot.  I always feel like my house is cleaning when it smells good. How about you?