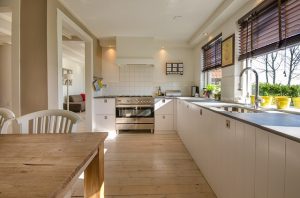 Are you tired of spending forever cleaning your house? Well, no more! With these tips, you can get your kitchen clean in 15 minutes or less. That's right, I said 15 minutes. No more skimping on your chores, my friends! At this rate, you can clean your entire home in less than an hour! This is great if you are expecting company on short notice, or if you are just too busy to focus a lot of time on your housework.
Are you ready to get your place cleaned up in a hurry? Here are some step by step tips on how to clean your kitchen in 15 minutes or less:
First and foremost, start with an empty dishwasher. If yours is full, empty it out now.
Load up all of your dirty dishes into the dishwasher next and start the washing cycle.
Clear off your counters. Put any food away, get rid of paper clutter such as mail or kids schoolwork, and put small appliances (toaster, blender, etc) away into cabinets.
Assuming you are done with it for the day, empty out your coffee pot and rinse it out. Don't forget the used grounds!
Wipe Down countertops. Do this step twice. The first time to get any loose crumbs, or other objects off of the counter. The second time is to get it good and clean.
Sweep the floors (we do this toward the end to be sure and catch any dust or crumbs that have fallen down from the counters.)
Follow up on sweeping by spot mopping. I do this by grabbing a couple of cleaning wipes and wiping down any spots I see. I prefer to mop just once a week so this keeps things shipshape in the meantime.
Do you have any quick cleaning tips that you typically use?