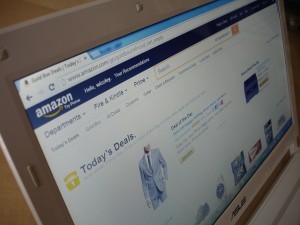 You might think that Amazon Prime is a waste of money and I don't blame you.  $100 is a lot of money to spend for the "benefit" of free shipping, but you know what?  It is a great deal for many more reasons than just the free shipping (but that is pretty nice too).
Here are even more benefits of Amazon Prime:
Special Discounts.  You can almost always find special discounts that are exclusive for Prime members.  If you pay attention, you can find special deals on razors, makeup, toys, groceries and more!  
Music Streaming. If you love to listen to music, Amazon Prime gives you access to thousands of songs without having to pay for a music streaming service.  Amazon does have a music streaming service, however you don't have to sign up for it in order to enjoy music.
Movie Streaming.  Amazon Instant Video has thousands of videos, tv shows and exclusive programs available for Prime members to stream.  We recently cut cable and we watch Netflix and Amazon Prime videos when we feel like watching TV.
Free 2 Day Shipping.  The free shipping is a wonderful benefit when you shop on Amazon (and Amazon is a great place to shop for household stuff).  I like knowing that I can order something and have it here within 2 days is a great feeling.  
Great deals.  Yes, Prime members qualify for special discounts, but in general, you can score some great deals on Amazon!  I buy almost all of my household stuff from Amazon (diapers, toilet paper, razors, etc) and I get great deals, plus I know I am always well stocked so it saves me from making unnecessary trips to the store.
Do you shop on Amazon?  What are your favorite benefits?  If you haven't signed up for Amazon Prime, why not?  What is keeping you from doing it?