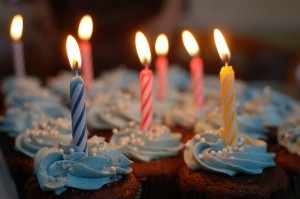 This last weekend I threw a birthday party for my daughter.  She turned 13 and I was very nervous for her party because I know several parents of similar aged kids and they spent hundreds of dollars celebrating their kids' birthdays.  That being said, she was turning into a teenager and I wanted to make sure she celebrated as she wanted to.  
If you are looking for a fun birthday plan, here are a couple of ways to celebrate without the expense:
Don't go crazy with the details.  Seriously, kids like to hang out and visit.  They don't need each and every detail of the party overly planned.  Bring cake and candles and food if you want and you are all set!
Party away from home.  If the weather permits, plan it at a park so that you don't have to worry about major cleanup.  We planned a park party and bought a frisbee, a Nerf type football and a $5 volleyball for the girls to bump around.  
Be flexible.  So, we had a fun park party planned.  No decor, no games, just kids hanging out.  As it turns out though, the weather was not on our side.  Thunderstorms came rolling in and wow was it rainy!  We decided that the park trip was not going to work, but what could we do last minute?  We called a local pizza parlor and found that they had enough room to seat us (15+ teen girls!), but since I was expecting a park party, I wasn't prepared to buy pizza, drinks and food for all of the kids.  After chatting with the restaurant employees they recommended that I buy 2 large pizzas and some jojo potatoes and provide them with ice water.  Guess what?  That entire thing cost us less than $50.  I can handle a $50 party for 15+ girls!
Do you have any great inexpensive party tips?