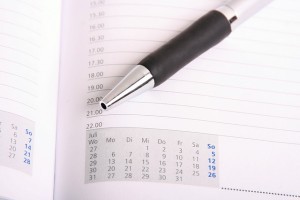 Most of us struggle with productivity to some degree. Many of us want to do what we can to become more productive. So what do you do to help increase your productivity? If you are looking for more tips, look no further! Here are 5 tips that you will help you become more productive.
Plan your goals each day. Set aside a few minutes each morning to plan out your goals for each day. This can also be done in a few minutes the night before. If you go into the day with a plan, you are more likely to accomplish the things that you have in your plan.

Work with your most productive times. Do you know what time of day is your strong times? If you don't, make sure you start paying attention each day to when you are able to best work and accomplish your goals. I, for example, tend to be very productive in the morning. It doesn't matter when I woke up or even when I went to bed the night before, but my productive hours to stop around noon. Some people do their best work late at night, etc. If you know when these times are for you, make sure you schedule your to-do list around these times, making sure to put the most time sensitive and important tasks in your schedule during those times.

Exercise. You may try to convince yourself that you don't have time to exercise, but the reality is that you will be far more productive when you do exercise. Exercise gets your blood pumping which increases your energy, plus it helps keep you healthy overall which means less time fighting illness and more time getting stuff done.

Wake up earlier. Yep, it's as easy as that. Simply setting your alarm 10 minutes earlier will give you an added 10 minutes to accomplish stuff that needs to be done. I use those 10 minutes to open and answer emails, etc.

Turn off distractions. Distractions throughout our day make it way too easy to procrastinate and wait to accomplish our tasks. Turn off those distractions. That means sign out of Facebook/Twitter/Instagram for a bit. If you find yourself staring at the TV, turn it off too. Don't allow your focus to go anywhere but on your to-do list.