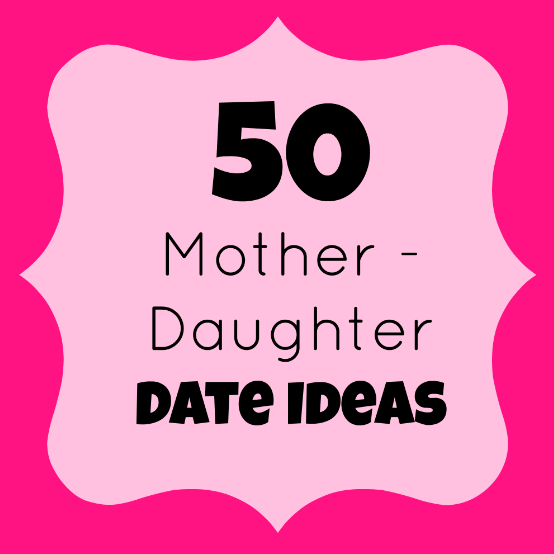 Did you know that from the moment your daughter is born until she's 18 you only have 940 Saturday's? It's so important to get that one on one time with your child and sometimes that's not as easy as it sounds. You're busy running getting errands done, the house cleaned, homework and projects taken care of but you don't want to lose touch of that special bound and relationship you have with your children. So I've thrown together some date night ideas you could do with your daughter but keep in mind, a lot of these would easily work with any of your children!
Cuddle on the couch and watch a childhood favorite movie
Makeovers
DIY manicures or pedicures
Craft together
Bake together
Teach your child something new
Just talk
Do a fun science experiment
Attend a exercise class together (yoga, pound, zumba)
Go to the movies and just get popcorn to go
Go to the library together
Make a "fancy" meal together
Checkout the local bookstore
Attend a play
Go on a bike ride
Dance party
Share a frozen yogurt
Grab a donut together
Camp in the backyard
Have a picnic (inside or outside)
Feed the ducks at the park
Swimming
Petting zoo
Roller Skating
Window shop at the mall
Nature walk/hike
Game night
Bowling
Play dress up with your wedding dress
Visit the Animal Humane Society and play with the animals
Find a new park to play at
Play the arcades
Browse the greenhouse
Yard sale shop together
Paint some pottery together
Bury a time capsule
Find a service to do for a family or friend
Plant a garden together
Make homemade ice cream
Play in the rain
Redecorate your daughters room
Watch the stars and look for satellites
Visit a local museum
Look through baby photos
Lay in the grass and find pictures in the clouds
Start a family cookbook with their favorite meals
Go fruit picking
Pick wildflowers together
Mother/Daughter Sleepover
Surprise her at school for a lunch date
Find something you'd both love to do together and set the date! It will give something for her to look forward too and you'll be able to create those special bonds together. Do you have some fun ideas you'd add to this list? Let us know in the comments below.